Today we present to you the second topic in the HR HOT ISSUES project, which is "How to ask the questions you can't ask".
In this new virtual course you will find out what kinds of interview questions are considered unethical, why to avoid them and whether there are any exceptions.

Do you want to know what candidate requirements are discriminatory, who are interview agents and what to do when unethical questions are asked? If so, this virtual course is for you.
You can buy the second issue of the virtual course on MotivP website or by clicking on the link under the short video. Although the videos are available only in Czech, we will be happy to get in touch with you if you are interested in learning about this topic in another language.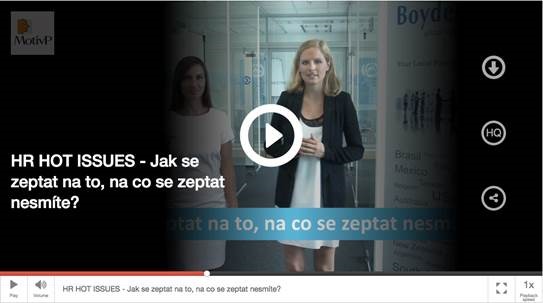 More about the project:
Rentsch Legal in cooperation with the Prague office of Boyden Executive Search and the MotivP agency have prepared an interesting project for you entitled HR HOT ISSUES, a series of videos intended mainly for HR officers and managers, but also everyone who deals with everyday HR questions.
These on-line, brief and practical videos present the lifetime of an employee in the company, both from the point of view of an HR officer and a lawyer.